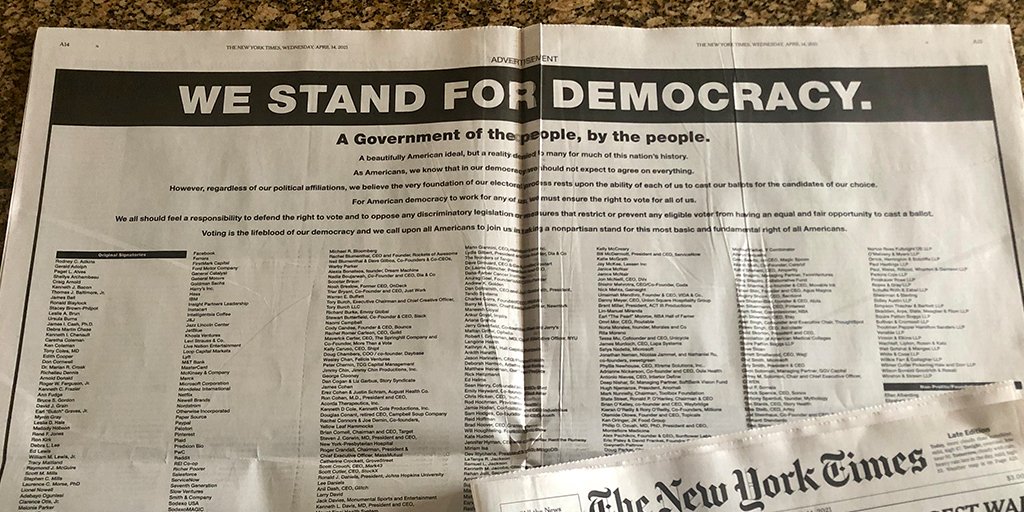 Today, over 500 companies and CEOs have united to oppose the 360+ state bills pending in 47 states that contain discriminatory voting measures.
The influx of voting-related bills comes on the heels of the 2020 election, the most secure in American history.
Again, we boldly declare enough is enough. The business community has made its position clear: it is willing and ready to unite in the fight to protect our democracy.
"Voting is the lifeblood of our democracy and we call upon all Americans to join us in taking a nonpartisan stand for this most basic and fundamental right of all Americans."
Read the joint statement here.
Original Signatories
Rodney C. Adkins
Gerald Adolph
Paget L. Alves
Shellye Archambeau
Craig Arnold
Kenneth J. Bacon
Thomas J. Baltimore, Jr.
James Bell
Ronald Blaylock
Stacey Brown-Philpot
Leslie A. Brun
Ursula Burns
James I. Cash, Ph.D.
Debra Martin Chase
Kenneth I. Chenault
Caretha Coleman
Ken Coleman
Tony Coles, MD
Edith Cooper
Don Cornwell
Dr. Marian R. Croak
Richelieu Dennis
Arnold Donald
Roger W. Ferguson, Jr.
Kenneth C. Frazier
Ann M. Fudge
Bruce S. Gordon
David J. Grain
Earl "Butch" Graves, Jr.
Myron Gray
Leslie D. Hale
Mellody Hobson
René F. Jones
Ron Kirk
Debra L. Lee
Ed Lewis
William M. Lewis, Jr.
Tracy Maitland
Raymond J. McGuire
Scott M. Mills
Stephen C. Mills
Laurence C. Morse, PhD
Lionel Nowell
Adebayo Ogunlesi
Clarence Otis, Jr.
Melonie Parker
Richard Parsons
Charles Phillips
Paula A. Price
Desirée Glapion Rogers
John W. Rogers, Jr.
Rodney Slater
Marva A. Smalls
Robert F. Smith
Bonita C. Stewart
Gaby Sulzberger
Frederick O. Terrell
John Thompson
Lloyd Trotter
Darren Walker
Robin Washington
Theodore V. Wells, Jr.
Tony Welters
Tony West
Benaree Pratt Wiley
Fletcher H. Wiley
Ray Wilkins
Barry Williams
Christopher J. Williams
Ronald A. Williams
Christopher Young
Corporate
Accenture
AIG
Airbnb
Alphabet
Ariel Investments
Amazon
American Airlines
American Express
Apple
Bain & Company
Bank of America
Berkshire Partners
Best Buy Co., Inc.
Biogen
BlackRock
BMC Software
Boston Consulting Group
Broadridge Financial Solutions, Inc.
Cambridge Associates
Cisco
Civic Entertainment Group
Climb Credit
CODAworx
Cowboy Ventures
Creative Artists Agency
Dell Technologies
Deloitte
Discover Financial Services
Dropbox
Eaton
Estée Lauder
Eventbrite
EY
Facebook
Ferrara
FirstMark Capital
Ford Motor Company
General Catalyst
General Motors
Goldman Sachs
Harry's Inc.
Hess
HP Inc.
IBM
Insight Partners Leadership
Instacart
Intelligentsia Coffee
Interpublic
J&J
Jazz Lincoln Center
JetBlue
Khosla Ventures
Levi Strauss & Co.
Live Nation Entertainment
Loop Capital Markets
Lyft
M&T Bank
MasterCard
McKinsey & Company
Merck
Microsoft Corporation
Mondelez International
Netflix
Newell Brands
Nextdoor
Nordstrom
Otherwise Incorporated
Paper Source
Patagonia
Paypal
Peloton
Pinterest
Plaid
Predxion Bio
PwC
Reddit
REI Co-op
Richer Poorer
Salesforce
ServiceNow
Seventh Generation
Slow Ventures
Smith & Company
Sodexo USA
SodexoMAGIC
Sonos
Sound Ventures
Spark Capital
Square
Starbucks
Steelcase
SurveyMonkey
sweetgreen
Synchrony
T. Rowe Price
Target
Tory Burch LLC
Tripadvisor
Twilio
Twitter
Under Armour
United Airlines
United Talent Agency
Vanguard
ViacomCBS
VMware
Warburg Pincus
Warby Parker
Wells Fargo
Zendesk
Zola
Individuals
Wemimo Abbey, Co-founder, Esusu Financial
Paula Abdul
JJ Abrams
Aron Ain
Kristen Anderson, Catch Financial
Lindsey Andrews, CEO & Co-founder, Minibar Delivery,
Sarah Aristil
Tim Armour, Chairman and CEO,
Capital Group
Adam Aron, AMC Theaters
Mohammad Atallah, Co-founder and CEO, Club Feast
Frank Baker
Bob Bakish
Nitesh Banta, Co-founder & CEO, B12
Arie Barendrecht, Founder and CEO, WiredScore
Sacha Baron Cohen
Kenya Barris, Khalabo Ink Society
Ryan Michelle Bathe
Kelvin Beachum Jr., NFL, AZ Cardinals
Greg Becker, CEO, Silicon Valley Bank
Amir Ben-Efraim, CEO, Menlo Security
Chip Bergh, President and Chief Executive Officer, Levi Strauss & Co.
Krista Berlincourt, Founder & CEO, Kensho Health
Tom and Andi Bernstein; Roland and Lois Betts; and David Tewksbury and Linda Tewksbury, M.D., Chelsea Piers Management, Inc.
Jeff Bezos, CEO, Amazon
Mark Bishof, President & CEO, Clarabridge
Sanjit Biswas, CEO & Co-founder, Samsara
Arthur M. Blank, Owner and Chairman, Blank Family of Businesses
Daniel L. Black
Ethan Bloch
Aaron Block, Managing Partner, MetaProp
Orlando Bloom
Michael R. Bloomberg
Rachel Blumenthal, CEO and Founder, Rockets of Awesome
Neil Blumenthal & Dave Gilboa, Co-founders & Co-CEOs, Warby
Parker
Alexia Bonatsos, founder, Dream Machine
Nadia Boujarwah, Co-founder and CEO, Dia & Co
Sharon Bowen
Scooter Braun
Noah Breslow, Former CEO, OnDeck
Trier Bryant, Co-founder and CEO, Just Work
Warren E. Buffett
Tory Burch, Executive Chairman and Chief Creative Officer, Tory Burch LLC
Richard Burke, Envoy Global
Stewart Butterfield, Co-founder & CEO, Slack
Naomi Campbell
Cody Candee, Founder & CEO, Bounce
Rachel Romer Carlson, CEO, Guild
Maverick Carter, CEO, The Springhill Company and Co-founder, More Than a Vote
Kelly Caruso, CEO, Shipt
Doug Chambers, COO / Co-founder, Daybase
Wesley Chan, Felicis Ventures
Peter Chernin, TCG Capital Management
Jimmy Chin, Jimmy Chin Productions, Inc.
George Clooney
Dan Cogan & Liz Garbus, Story Syndicate
James Cohen
Erez Cohen & Justin Schram, August Health Co.
Ron Cohen, M.D., President and CEO, Acorda Therapeutics, Inc.
Kenneth D Cole, Kenneth Cole Productions, Inc.
Lenny Comma
Douglas Conant, retired CEO, Campbell Soup Company
Rachel Connors & Joe Demin, Co-founders, Yellow Leaf Hammocks
Brian Cornell, Chairman and CEO, Target
Steven J. Corwin, MD, President and CEO, New York-Presbyterian Hospital
Roger Crandall, Chairman, President & Chief Executive Officer, MassMutual
Catherine Crockett, GroveStreet
Scott Crouch, CEO, Mark43
Scott Cutler, CEO, StockX
Ronald J. Daniels, President, Johns Hopkins University
Lee Daniels
Anil Dash, CEO, Glitch
Larry David
Jack Davies, Monumental Sports and Entertainment
Gordon J. Davis
Kenneth L. Davis, MD, President and CEO, Mount Sinai Health System
Steven Davis
Lynn Forester de Rothschild, Managing Partner, Inclusive Capital Partners, and Founder and Chair, the Coalition for Inclusive Capitalism
Gabriella DeFlorio, CEO and Cofounder, Prelay
Michael Dell, Chairman and CEO, Dell Technologies
Daniel Demetri, Founder & CEO, Trellis
Jesse Derris, founder and CEO, Derris
Bob Diamond, CEO, Barclays and CEO, Atlas Merchant Capital
Leo DiCaprio
Todd Dipaola, CEO and Founder, InMarket
Daniel L. Doctoroff, Sidewalk Labs
Arnold Donald
Damien Dwin
Benno O. Dorer
Brian Doubles, President and CEO, Synchrony
W. Brent Dover, Commure
Michael Dowling, President and CEO, Northwell Health
Simran Dua, CEO, My Subscription Addiction
Jennifer Dulski, CEO and founder, Rising Team
Channing Dungey
Brian Dye & Gregory Bell, Corelight
Denia Ebersole, Co-founder & COO, and Vijay Singh, Co-founder and CTO, Catch Inc.
Richard Edelman, Edelman
Blair W. Effron, Co-founder, Centerview Partners
Brian W. Egan, Co-founder & CEO, Evolve
Mark Ein, Capitol Investment Corp
Catherine Engelbert, Commissioner, WNBA
Paul English, Co-founder Lola.com and Kayak.com
Brad Feld, Ryan McIntyre, Seth Levine, Chris Moody, Jaclyn Freeman Hester, and Lindel Eakman, Partners, Foundry Group
Arash Ferdowsi, Co-founder Dropbox
Beth Ferreira, Partner, FirstMark Capital
Andrew Fingerman, CEO, Photoshelter
Larry Fink
Erika Fisher, Chief Administrative
Officer & General Counsel, Atlassian
Bryan Fogel, Orwell Productions
Vicki Fuller
William E. Ford, CEO, General Atlantic
Andras Forgacs, Founder & Director, Modern Meadow
Gary Foster, Krasnoff/Foster Entertainment
Jane Fraser, CEO, Citi
Ryan Frazier, Co-founder & CEO and Alejandro Chouza, COO, Arrived
Paul Fribourg, CEO, Continental Grain Company
Richard L. Friedman, President/CEO, Carpenter & Company, Inc
Marcie Frost
Brian Frumberg, CEO & Founder, VentureOut
Glenn Fuhrman, Founder and CEO, Virtru Investment Partners
Josh Gad
Devesh Garg & Keyur Patel, Arrcus
Ashutosh Garg, Eightfold
Avichal Garg
Christopher Garrett, EVP
David Geffen
Mike George, President & CEO, Qurate Retail, Inc.
Robert Gerrard
Mario Giannini, CEO, Hamilton Lane Inc.
Lydia Gilbert, President and Cofounder, Dia & Co
The founders of Tango
Dave Girouard, CEO & Co-founder, Upstart
Dr. Laurie Glimcher, President and CEO, Dana-Farber Cancer Institute
Anurag Goel, Founder and CEO, Render
Dan Goldsmith, CEO and Jen Goldsmith, President, Tendo Systems
Andrew K. Golden
Seth Goldman, CEO, Honest Tea
Charles Gorra, Founder/CEO, REBAG
Barry M. Gosin, Chief Executive Officer, Newmark
Maneesh Goyal
Ankur Goyal, Impira
Ariana Grande
Jerry Greenfield, Co-founder, Ben and Jerry's
Mattan Griffel, Ophelia
Robert I. Grossman, MD, Chief Executive Officer, NYU Langone Health
Ira D. Hall
Kathryn A. Hall, Hall Capital Partners
Ankith Harathi
Jason Harinstein, CFO, Flatiron Health
Deborah Harmon, Artemis Real Estate
Matthew Heineman, Our Time Projects
Rick Heitzmann
Ed Helms
Sean Henry, Cofounder and CEO, Stord
Emily Heyward, Co-founder, Red Antler
Chris Hicken, CEO, 'nuffsaid
Rod Hochman, Providence Health
Jamie Hodari, Co-founder and CEO, Industrious
Sam Hodges, Co-founder and CEO, Vouch
Reid Hoffman
Brad Hoover, CEO, Grammarly
Will Houghteling, Founder/CEO, Strive
Kate Hudson
Jennifer Hyman, CEO and Co-founder, Rent the Runway
Miriam Isa
Dev Ittycheria, President & CEO, MongoDB
LaTanya R. Jackson
Samuel L. Jackson
Lisa P. Jackson
Kenneth M. Jacobs, Chairman and CEO, Lazard LTD
Rehan Jalil, Securiti.ai
Amish Jani
Sujay Jaswa and Jeffrey Katzenberg, Co-founders & Managing Partners, WndrCo
Matthew M. Johnson, Partner, Ziffren Brittenham LLP
Earvin "Magic" Johnson
Rashida Jones
Fabian Garcia, President, North America, Unilever
Adam Kalamchi, Founder & CEO, Staircase
Sab Kanaujia, Co-founder & CEO, Mindwell Labs
Ben Kaufman, CEO, CAMP
Gloria Calderon Kellett, GloNation Studios
Glenn Kelman, CEO, Redfin
David Kenny, CEO, Nielsen
Dave Kerpen, Founder, Likeable
Frederic Kerrest, Okta
Neal Khosla, CEO, Curai
Dara Khosrowshahi, CEO, Uber
Jordana Kier & Alexandra Friedman, Co-founders and co-CEOs, LOLA
Charles Kim, CEO, Crave Global, Inc
Rachel King, CEO, GlycoMimetics
Simon Kirk, Cofounder, RaisedBy.Us
Seth Klarman, CEO, The Baupost Group
Atlanta Hawks and State Farm Arena, Steve Koonin
Josh Kopelman – Partner, First Round Capital
Cem Kozinoglu, founder and CEO, Catch Social
Brian Krzanich, CEO, CDK Global
Stephen Kuhl, Co-founder & CEO, Burrow
Tina Kuhn, President and CEO, CyberCore Technologies
Josh Kushner, Thrive Capital
Fritz Lanman
Othman Laraki, Color Health
Will Houghteling CEO, UCSF
Queen Latifah
Jeff Lawson, CEO, Twilio
Andrew Le, CEO & Co-founder, Buoy Health
Lyn & Norman Lear
Julianne Lefkowitz, VP of Global Ecommerce, Ramy Brook
Ben Lerer, CEO, Group Nine Media
Dr. Jeremy Levine
Sarah Kirshbaum Levy, CEO, Betterment
Mia Lewin, Founder and CEO, Style Genome
William M. Lewis, Jr.
Marah Lidey, Co-CEO, Shine
Jeremy Liew, Partner, Lightspeed Venture Partners
Steven Lipin, CEO, Gladstone Place Partners
Greg Lipstein, Co-founder and Principal at DrivenData
Kevin Liu and Scott Woody, Co-founders, Metronome
David Lortscher, Co-founder and CEO, Curology
Enrique Lores, CEO, HP Inc.
Demi Lovato
Ted W. Love, M.D. President and CEO Global Blood Therapeutics (GBT)
George Lucas
Roger Lynch, CEO, Condé Nast
Michael Lynton, Chairman, Snap
Samir Malik, founder and CEO, Genoa Telepsychiatry
Ajay Vashee, Todd Chaffee, Eric Liaw, Steve Harrick, Somesh Dash, Tom
Loverro, Dennis Phelps, and Jules Maltz, General Partners, IVP
Rooney Mara
Rose Marcario, Former CEO Patagonia, Inc.
Howard Marks, Co-Chairman, Oaktree Capital Management
Flori Marquez & Zac Prince, Cofounders, BlockFi
Wynton Marsalis
Geoff Martha, CEO, Medtronic
Michael Martin, Co-founder, Avenue 8
Michael Martinez, founder and CEO, FunCraft
Tom Matzzie, Founder and CEO, CleanChoice Energy
Lee Mayer, CEO, Havenly
Matthew McCarthy, Ben & Jerry's Homemade, Inc.
Kelly McCreary
Bill McDermott, President and CEO, ServiceNow
Katie McGrath
Jay McKee, Lessen Inc
Janice McNair
Jon McNeill, CEO, DVx
Shishir Mehrotra, CEO/Co-founder, Coda
Nick Mehta, Gainsight
Umaimah Mendhro, Founder & CEO, VIDA & Co.
Danny Meyer, CEO, Union Square Hospitality Group
Rodney Miller
Brent Miller, President, ACT III Productions
Lin-Manuel Miranda
Earl "The Pearl" Monroe, NBA Hall of Famer
Omri Mor, CEO, Routable
Noria Morales, founder, Morales and Co
Rita Moreno
Tessa Mu, Cofounder and CEO, Unicycle
James Murdoch, CEO, Lupa Systems
Satya Nadella, Microsoft
Jonathan Neman, Nicolas Jammet, and Nathaniel Ru, Co-founders, sweetgreen Phyllis Newhouse, CEO, Xtreme Solutions, Inc..
Adrianne Nickerson, Co-founder and CEO, Oula Health
Antonio Nieves, CEO, Interior Define
Deep Nishar, Sr. Managing Partner, SoftBank Vision Fund
Hugh Njemanze, President, Anomali
Mark Nunnelly, Chairman, Toolbox Foundation
Ronald P. O'Hanley, Chairman & CEO, State Street
Brian O'Kelley, Co-founder and CEO, Waybridge
Kieran O'Reilly & Rory O'Reilly, Co-founders, Millions
Olamide Olowe, Founder and CEO, Topicals
Ken Oringer, JK Food Group
Philip O. Ozuah, MD, PhD, President and CEO, Montefiore Medicine
Alex Pachikov, Founder & CEO, Sunflower Labs
Eric Paley & David Frankel, Founder Collective
Gwyneth Paltrow
Doug Parker, Chairman and Chief Executive Officer, American Airlines
Insight Partners Leadership
TJ Parker, CEO, PillPack
Ben Parr, President & Co-founder, Octane AI
Kal Patel, BrightInsight
Tobias Peggs, cofounder and CEO, Square Roots
Nancy Peretsman
Anand Babu Periasamy, MinIO
Ryan Perry, CEO, Pyroscope
Katy Perry
Pat Petitti, Catalant
Joaquin Phoenix
Lester Pimentel, VP
Serkan Piantino, CEO and Co-founder, Spell
John Pleasants, Founder and CEO, Brava
Matt Pohlson, Founder and CEO, Omaze
Ramesh Prabagaran & Mehul Patel Ajay Prakash, Co-founder and CEO, Rinse
Michael Preysman, founder, Everlane
Roy Price
Will Price
Zac Prince, CEO, BlockFi
Gina Prince-Bythewood
Penny Pritzker, Chairman and Founder, PSP Partners
Daniel Pupius, Range
Daniel Ramot, Co-founder and CEO, Via
Dilip Rao, CEO and Co-founder, Sharebite
Ronald H. Rappaport, Reynolds, Rappaport, Kaplan & Hackney, LLC
Hari Ravichandran, Founder and CEO, Aura
Shari Redstone
Josh Reeves, CEO, Gusto
Rene Reinsberg, CEO, cLabs
Zachariah Reitano, CEO, Ro
Steve Rendle, Chairman and Chief Executive Officer, VF Corporation
Jim Reynolds
Shonda Rhimes
Jeff Richards, Managing Partner, GGV Capital
Jessica Rolph, Co-founder & CEO & Roderick Morris, Co-founder & President, Lovevery
Iyah Romm & Toyin Ajayi, Cityblock
Victor Rosenman, CEO & Founder, Feedvisor Inc
Dan Rosensweig, CEO, Chegg, Inc.
Tracee Ellis Ross
Paul Rothman, MD, Dean of Medical Faculty & CEO, Johns Hopkins Medicine
Mike Royce, Snowpants Production
Michael Royce
Eric Roza, CEO, CrossFit
James Ruben, Founder and CEO, Hellosaurus
Mark Ruffalo
Roneil Rumburg, Co-founder and CEO, Audius
Ryan Russell, Avenue
Kevin P. Ryan, Alleycorp
Cara Sabin, Sundial Brands
DJ Sampath, Armorblox
Julie Samuels, Founder and Executive Director, Tech:NYC
Marcus Samuelson
Pouria Sanae & Poorya Sabounchi, ixlayer
Ian Schafer, Co-founder and CEO, Kindred
Jacqueline Schafer, Founder and CEO, Clearbrief
Eric D. Schlager, The Bulfinch Companies, Inc.
Eric Schmidt, Co-founder, Schmidt Futures
Matt Schrage, CTO, & Brendan Falk, CEO, Fig
Daniel Schreiber & Shai Wininger, cofounders, Lemonade
Howard Schultz
Amy Schumer
Peter Schuna, CEO, Pathway Health
Julia Cohen Sebastien, CEO and Kassidee Kipp, Co-founder, Grayce
Michael Seibel, Y Combinator
Allwyn Sequeira
Greg Sewitz, co-CEO, Magic Spoon
Akash Shah, Co-founder, Care/of
Dr. Rajiv J. Shah, President of The Rockefeller Foundation
Kabir Shahani, CEO, Amperity
Lee Shapiro, Managing Partner, 7wireVentures
Craig Shapiro, Collaborative Fund
Vivek Sharma, Co-founder & CEO, Movable Ink
Rafael Shin, Founder and CEO, Agua Magica
Gregory Shove, CEO, Section4
Liya Shuster-Bier, founder & CEO, Alula
Ben Silbermann, CEO, Pinterest
Adam Silver, Commissioner, NBA
Josh Silverman, CEO, Etsy
Ajeet Singh, Cofounder and Executive Chair, ThoughtSpot
Rajeev Singh, CEO, Accolade
David Skorton, President and CEO, Association of American Medical Colleges
Steve Sloan
Garrett Smallwood, CEO, Wag!
Brad Smith, Microsoft
Judy Smith, President & CEO
Glenn Solomon, Managing Partner, GGV Capital
Jeffrey M. Solomon, Chair and Chief Executive Officer, COWEN
Bejul P. Somaia
Patrick Spence, CEO, Sonos
Anthony Sperduti, founder, Mythology
Tom Stanis, CEO, Story Health
Mike Steib, CEO, Artsy
Joel Steinhaus, Co-founder and CEO, Daybase
Richard Stendardo
Sean Strong, CEO, Grove XR
Angela Sutherland, CEO Yumi
Mona Sutphen, Senior Advisor, Vistria Group
Steven R. Swartz, President & CEO, Hearst
Julie Sweet, CEO, Accenture
Paul J. Taubman, Chairman & CEO, PJT Partners
Jennifer Tejada, CEO, PagerDuty
Cami Tellez, founder and CEO, Parade
Vinay Hiremath & Joe Thomas, Loom's Co-founders
Don Thompson
Yohannes Tilahun, CEO, KT&Y Advisory
Lynn Tilton, CEO Patriarch Partners
Wayne Ting, CEO, Lime
Charles A. Tribbett, III
Glen Tullman, CEO, Transcarent
Hans Tung, Managing Partner, GGV Capital
Fay D. Twersky, President, Arthur M Blank Family Foundation
Susan Tynan, founder and CEO, Framebridge
Jean-Michel Valette, Chairman, DripDrop Hydration Inc.
Dwyane Wade
Susan L Wagner
George Wallace, comedian
Lisa Wardell
Kerry Washington
Casey Wasserman, Chairman & CEO, Wasserman
Dr. Florian Wegener, CEO, ZAGENO Inc.
Michael Wieder, Co-founder, Lalo
Danielle Weisberg & Carly Zakin, co-CEOs, theSkimm
Liz Wessel, CEO & Co-founder, WayUp
James D. White
Tony Xu, Co-founder and CEO, DoorDash, Inc.
Yury Yakubchyk, Jr., Sprout Therapy
Christopher Young, EVP Microsoft
Peter Zaffino, CEO, AIG
David Zaslav, President & CEO, Discovery
Joyce Zhang Gray, CEO & Co-founder, Alariss Global
John Zimmer, Co-founder & President, Lyft
Bilal Zuberi, Lux Capital
Legal
Akerman LLP
Akin Gump Strauss Hauer & Feld LLP
Arnold & Porter Kaye Scholer LLP
Ballard Spahr LLP
Boies Schiller Flexner LLP
Bryan Cave Leighton Paisner
Cahill Gordon & Reindel
Cleary Gottlieb Steen & Hamilton LP
Cooley LLP
Covington & Burling LLP
Cozen O'Connor P.C.
Cravath, Swaine & Moore LLP
Crowell & Moring LLP
Davis Polk & Wardwell LLP
Davis Wright Tremaine LLP
Debevoise & Plimpton LLP
Dechert LLP
Faegre Drinker Biddle & Reath LLP
Fenwick & West LLP
Fish & Richardson P.C.
Fox Rothschild LLP
Fried, Frank, Harris, Shriver & Jacobson LLP
Gibson, Dunn & Crutcher LLP
Goodwin Procter LLP
Holland & Knight LLP
Holwell Shuster & Goldberg LLP
Jenner & Block LLP
Katten Muchin Rosenman LLP
Kirkland & Ellis LLP
Kramer Levin Naftalis & Frankel LLP
Mayer Brown LLP
McDermott Will & Emery
McGuireWoods LLP
Milbank LLP
Mintz, Levin, Cohn, Ferris, Glovsky and Popeo, P.C.
Morgan, Lewis & Bockius LLP
Morrison & Foerster LLP
Nixon Peabody LLP
Norton Rose Fulbright US LLP
O'Melveny & Myers LLP
Orrick, Herrington & Sutcliffe LLP
Paul Hastings LLP
Paul, Weiss, Rifkind, Wharton & Garrison LLP
Perkins Coie LLP
Proskauer Rose LLP
Ropes & Gray LLP
Schulte Roth & Zabel LLP
Shearman & Sterling
Sidley Austin LLP
Simpson Thacher & Bartlett LLP
Skadden, Arps, Slate, Meagher & Flom LLP
Squire Patton Boggs LLP
Sullivan & Cromwell LLP
Troutman Pepper Hamilton Sanders LLP
Venable LLP
Vinson & Elkins LLP
Wachtell, Lipton, Rosen & Katz
Weil Gotshal & Manges LLP
White & Case LLP
Willkie Farr & Gallagher LLP
Wilmer Cutler Pickering Hale and Dorr LLP
Wilson Sonsini Goodrich & Rosati
Winston & Strawn LLP
Non-Profits/Foundations
Ellen Alberding
Elizabeth Alexander
Emerson Collective
Tonya Allen
Daniella Ballou-Aares, CEO, Leadership Now Project
Judy Belk
Mary Schmidt Campbell, PhD, President, Spelman College
Jim Canales
Don Chen
Gerald Chertavian, Founder and CEO, Year Up
Civic Alliance
Stephanie J. Creary, PhD, Assistant Professor of Management, The Wharton School
Rony Delgarde, CEO and President, Global Paint for Charity
Mina Fader, managing director, The Wharton School Baker Retailing Center
Peter Fader, Professor of Marketing, The Wharton School of the University of Pennsylvania
Robert M. Franklin, PhD, President Emeritus, Morehouse College
Helene Gayle
Scott Galloway, NYU Stern
Bill George, Senior Fellow, Harvard Business School
Adam Grant, The Saul P. Steinberg Professor of Management and Professor of Psychology at Wharton
Vartan Gregorian
Patricia Harris
Stephen Heintz
The Board Challenge Founders: Brad Gerstner (Founder & CEO, Altimeter Capital), Sukhinder Singh Cassidy (Founder & Chair, theBoardList), Guy Primus (CEO, Valence)
Dr. Tom C. Hogan, Professor of Practice inHuman Resource Management, Penn State University
Don Howard
Peter Hutton, Beaver Country Day School
Alberto Ibarguen
Diane Kaplan
Katherine Klein, Professor and Vice Dean of Social Impact, The Wharton School
Jeff Klein, Executive Director, McNulty Leadership Program
Larry Kramer
Annette Lanjouw
Nancy Lindborg
Dr. Michael Lomax, United Negro College Fund
Corinne Low, Assistant Professor, Business Economics and Public Policy, The Wharton School
Mary-Hunter McDonnell, Associate Professor, The Wharton School
Will Miller
La June Montgomery Tabron
Youngme Moon, Harvard Business School
Wes Moore, CEO, Robin Hood Foundation
Tsedal Neeley, Ph.D., Naylor Fitzhugh Professor of Business Administration, Harvard Business School
Therese O'Higgins, Executive Director, Billie Jean King Leadership Initiative
Grant Oliphant
John Palfrey
Barbara Picower
Stephen Heintz
Michael Posner, Jerome Kohlberg Professor of Ethics & Finance, Director Center for Business and Human Rights, NYU Stern School of Business
Jeff Raikes
Tricia Raikes
Rip Rapson
Ronald Richard
David Rockefeller Jr.
Nancy Roob
Robert Ross
Lorie Slutsky
Billy Starr, Founder/CEO, Pan-Mass Challenge
Ann Barnett Stern
Jon Stryker
Meredith Sumpter, CEO,
Council for Inclusive Capitalism
Nicole Taylor
David A. Thomas, President, Morehouse College
Laurie Tisch
Louis J. Woolf, President & Chief Executive Officer, Hebrew SeniorLife
Timothy Snyder, Richard C. Levin Professor of History
Michael Useem, Professor of Management, Wharton School, University of Pennsylvania